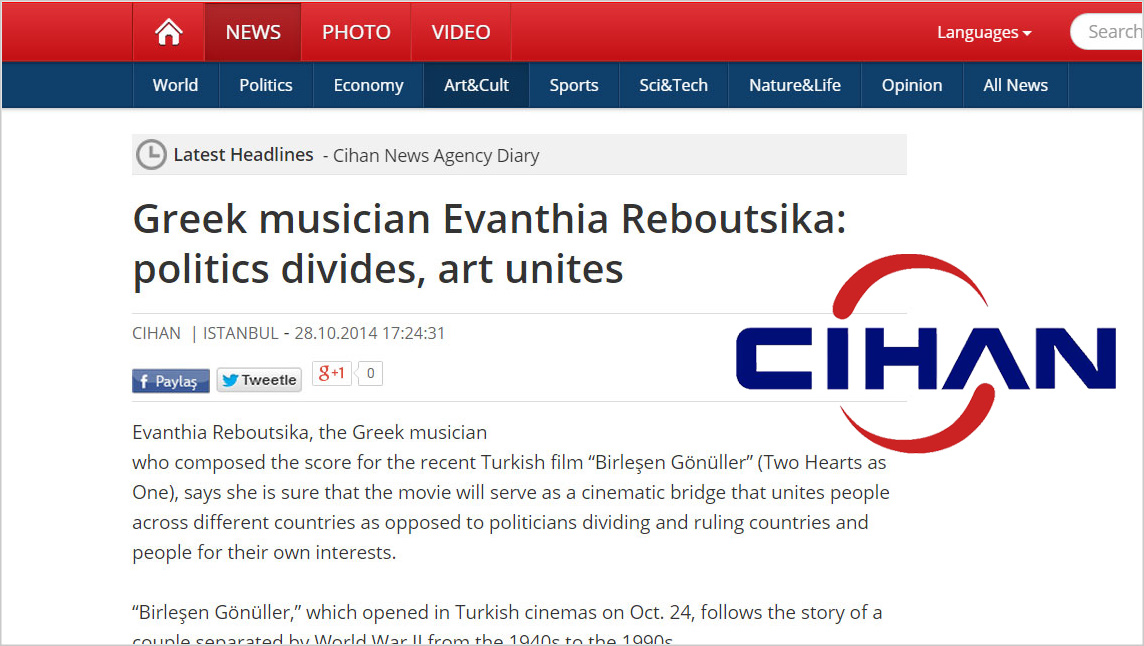 Evanthia Reboutsika, the Greek musician who composed the score for the recent Turkish film "Birleşen Gönüller" (Two Hearts as One), says she is sure that the movie will serve as a cinematic bridge that unites people across different countries as opposed to politicians dividing and ruling countries and people for their own interests.
Reboutsika, whose previous credits include Turkish director Çağan Irmak's critically acclaimed 2005 drama "Babam ve Oğlum" (My Father and My Son), for which she won the 2006 Discovery of the Year award at the World Soundtrack Awards in Belgium, says she liked the idea of composing the original soundtrack for a period film when she first read the script.a.
"Birleşen Gönüller," the debut feature by Hasan Kıraç, is the third Turkish film featuring music by Reboutsika, following Irmak's 2008 film "Ulak" (The Messenger). Another previous film for which she composed the score was a 2003 Greek-Turkish co-production titled "Politiki Kouzina" (Turkish: "Bir Tutam Baharat"; worldwide English title "A Touch of Spice").
I'm happy with the music I made for 'Birleşen Gönüller.' I think it goes very well with the story. I hope it turns out to be a good [soundtrack] that everyone will be fond of.

EVANTHIA REBOUTSIKA
Reboutsika's success in film score composing is not arbitrary: Born in 1958 as the daughter of a movie theater owner in Greece, Reboutsika grew up watching films. "I was only several months old when I first went to the movie theater. I watched so many films, good and bad. And I always dreamed of becoming an actress when I was a kid," she says, adding with a laugh: "I wouldn't turn it down if they offered me the leading role in a Turkish film as my next job."
However, despite her dreams of becoming an actress, at the age of six, Reboutsika started playing the violin and together with her three siblings chose music as a lifetime career. A string quartet she formed with her sisters Maria and Ioanna and brother Ploutarchos first became popular in concert halls in Athens and later went on to play concerts abroad.at.
Even as we speak, there are people out there [in conflict zones around the world] killing each other. Politicians and politics continue to divide people for their own interests, but art has a unifying power. And I believe [we] have done a good job that will serve this purpose.

EVANTHIA REBOUTSIKA
Reboutsika says they are a close-knit family and that all four siblings grew up in a house where there was a lot of appreciation for the arts. "Thanks to my dad, in our house there always used to be an environment of art. I grew up listening to Byzantine church music; my dad was highly knowledgeable on music and he was also a very talented painter. When we were little, he even used to perform [shadow theater] for me and my siblings at home."
CIHAN NEWS AGENCY